A Field Guide to Whale Creek
A participatory audio walk and post-natural field guide to new york city's most polluted waterway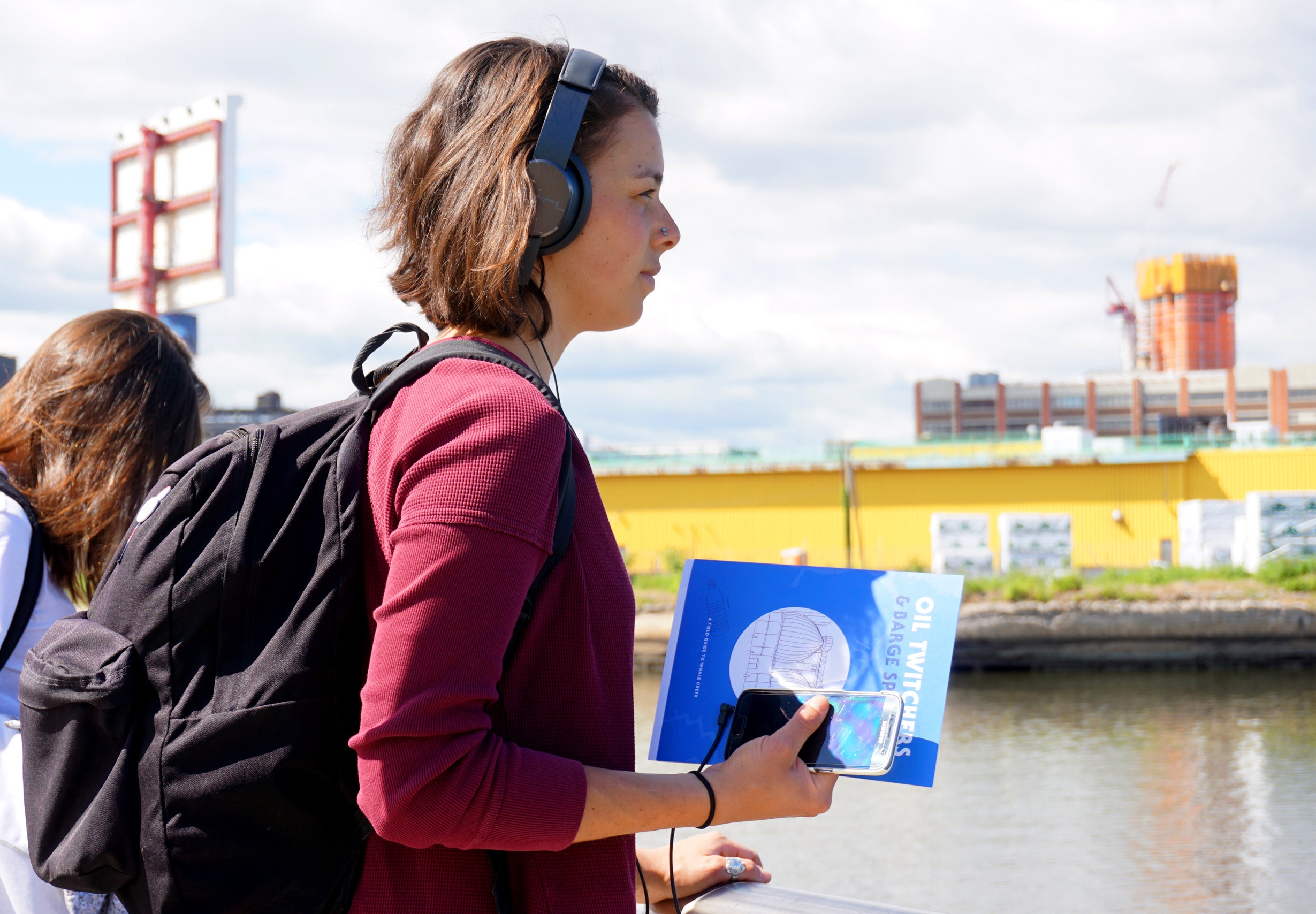 A Field Guide to Whale Creek is an audio walking tour and printed field guide to part of Newtown Creek, New York City's most polluted waterway.
A Field Guide to Whale Creek situates the participant between the industrial and the "natural" at the Newtown Creek Nature Walk in Greenpoint, designed by George Trakas. Situated along the edge of the Creek, the Nature Walk is the perfect vantage point for observing and identifying the industrial, civic and ecological entities that cohabitate near the Whale Creek tributary, from canoes to recycling barges to blue crabs. A Field Guide to Whale Creek lays bare the power and complexity in trying to name what surrounds you. It is one part of a larger, four-part project called A Field Guide to the Dark Ecologies of Newtown Creek. Each of the four project phases encompasses a self-guided pamphlet in conversation with a site-specific engagement, generated through community partnerships.
Role
Concept, Research, Interaction Design, User Testing, Visual Design (Print and Web)
COLLABORATORS
Marina Zurkow
Nicholas Hubbard
YEAR
2015 - 2017
Process: SITE VISITS AND SYSTEMS MAPPING
Newtown Creek is a 3.8 mile working, industrial waterway, home to ribbed mussels, killifish, and muskrats. It is one of the worst sites of industrial contamination in the United States, recently named a Superfund Site by the EPA. A Field Guide to Whale Creek expands the traditional field guide format to encompass this complexity, including infrastructure and industry alongside flora, fauna and geological entities.
The design process for A Field Guide to Whale Creek began with site visits in order to gain a deeper understanding of Newtown Creek and the various human and non-human stakeholders (plants, animals, microbes) along its edges. We visited the Creek by bike, by boat and by foot, and spent time there in an attempt to gain a deeper, more embodied understanding of it as a place. We went to community meetings, and met with different kinds of stakeholders to understand the various systems that intersect there.
Using our observations from these site visits, we did a ton of systems mapping back in the studio. We identified a growing list of entities on the Creek — both visible and invisible, human and non-human — that would eventually make up the entries in our field guide, and the content for our audio.
Process: Prototyping and User Testing
Over the course of many months, and after much research and informal testing, we produced a first working prototype of the project. The first prototype consisted of a rough version of the audio tour as well as a draft printed field guide. We took a generous group of testers to Whale Creek on a Sunday morning to try out the experience. The user feedback was extremely useful and addressed questions around timing, narrative, and the relationship between the printed matter and the audio.
Final Field Guide and Experience Design
A Field Guide to Whale Creek consists of two parts in its final form: the self-guided audio tour, and the printed field guide. The two components can be experienced separately, or together, and are designed to complement one another.
The traditional naturalist field guide format satisfies a desire to identify. The design of A Field Guide to the Dark Ecologies of Newtown Creek draws on these roots, but departs radically in the way it organizes and presents the reader with information. It is more inclusive, giving more attention to place and ecology, and embedding the system of entries in a different framework of inquiry and investigation. The printed guide ends with a series of reflective prompts, leaving visitors with a series of calls-to-action to continue their engagement with the Creek.
The audio tour is a self-guided walk around the Newtown Creek Nature Walk, designed by George Trakas and built in 2007. The tour consists of a series of 13 audio tracks that last 38 minutes. We experimented with the audio tour as a single track, and in a more interactive format, but eventually decided to create it as a series of individual tracks that can be easily played from Soundcloud and experienced on site at the Nature Walk. The audio tour is both narrative and informational, incorporating the past and future, history and poetry of Whale Creek.
WEBSITE DESIGN
A Field Guide to Whale Creek also lives online as a website, alongside information about the other three parts of the project which are currently in development. The visual language of the website draws on a mixture of nautical iconography and hazard signage.
Role
Concept, Research, Interaction Design, User Testing, Visual Design (Print and Web)
COLLABORATORS
Marina Zurkow
Nicholas Hubbard
YEAR
2015 - 2017
Tools & Technologies
Adobe Illustrator
Adobe InDesign
Adobe Photoshop
Sketch
HTML / CSS