#GIRL2016
A pop-up audio storytelling installation designed to build community for girls
I AM THAT GIRL is a national organization helping girls to transform self-doubt in to self-love by providing a safe space to connect and have honest conversations about things that matter.
For #GIRL2016, a one-day summit hosted at Los Angeles' historic El Rey Theater, I AM THAT GIRL asked us to create an interactive experience geared toward their mission. To do so, we created a pop-up audio storytelling installation to capture the individual moments of self-celebration, and broadcast them within the vibrant #GIRL2016 community.
Role
Concept, Interaction Design, UI Design, Software Development, Fabrication
Collaborators
Skylar Jessen
Jesse Donaldson
YEAR
2016
CONCEPT
Each girl has a beautiful story that is her own, one that should be celebrated, one that exemplifies where she has turned self-doubt into self-celebration. From this place of self-love, each girl can in turn celebrate the amazing stories of those around her. In order to capture these firsthand stories at the event, the interactive installation was designed to take each girl through a three step journey.
1 ) Self-reflection
We asked the girls to pick prompt a card. The card asked them to reflect on their challenges and strengths in one of the following areas of life: school, love, family, job, body image, friendship.
2 ) Self-celebration
Based on their reflection, each girl recorded a personal story and a dynamic GIF portrait using a custom interactive audio booth.
3 ) Amplify community
The audio stories were then broadcast on the outer "listening walls" of the recording booth, giving girls the opportunity to have an intimate moment with the insightful, inspiring, and powerful responses being shared inside the booth.
Process: Prototyping and Design
To figure out the right physical installation to take the girls through that experience, we imagined and sketched different possibilities for how the various parts of the installation — reflecting, sharing and listening — might relate to one another .
We wanted the space to feel intimate and comfortable, yet serve multiple functions, so we quickly landed on the idea of a booth. We prototyped big and small, on the scale of the body and in miniature, to figure out what it should feel like spatially.
In the meantime, we tested different prompts to evoke honest responses from our participants, and experimented with different audio setups. I designed out a simple interface for the recording booth and built custom software in Javascript that ran the entire installation, from the audio recording and GIF photobooth, to the external listening wall.
PROCESS: FABRICATION
The final installation at the El Rey Theater needed to be installed and taken down in just a few hours before and after the event, so the entire structure was constructed modularly (not to mention built in NYC, flat-packed and shipped to LA, where it was then rebuilt).
To supplement the structure itself, we fabricated custom graphics on the exterior wooden panels using the CNC router and created vinyl stickers for additional texture.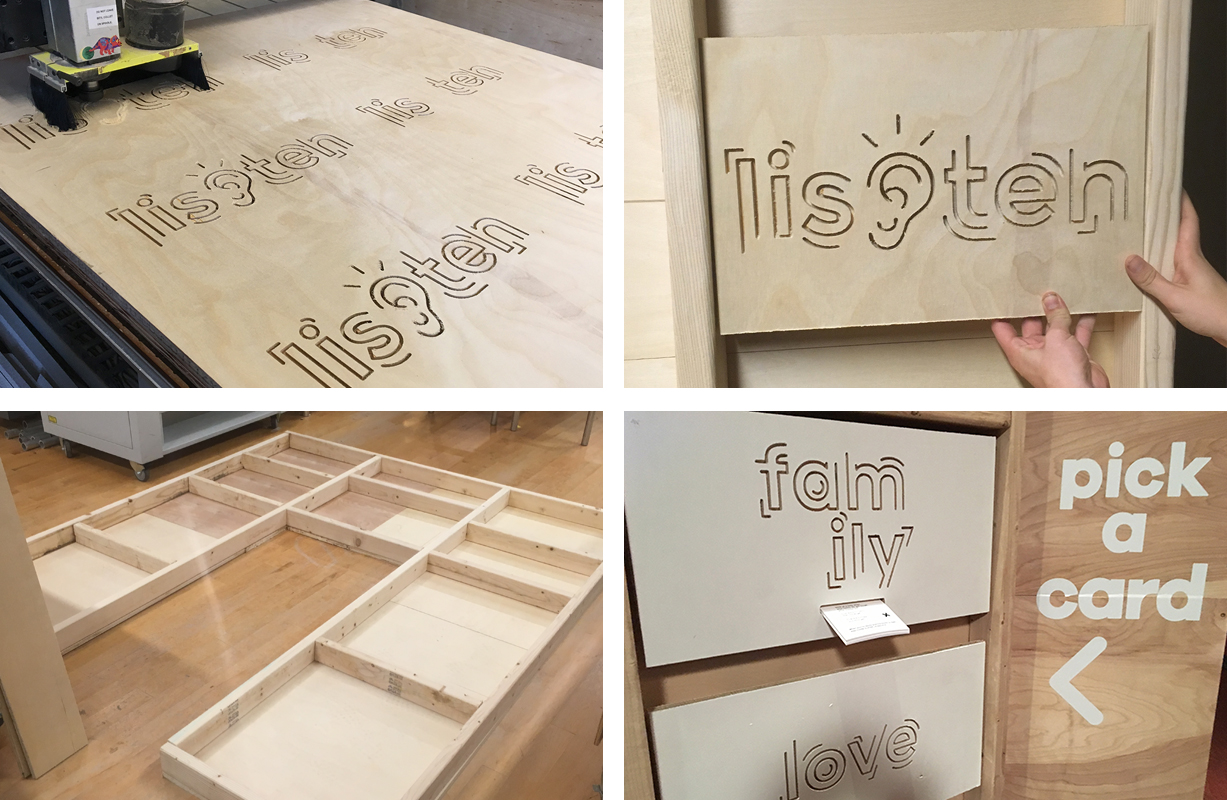 FINAL INSTALLATION
The installation ran during the event in October 2016 and was a centerpiece of the day's participatory programming.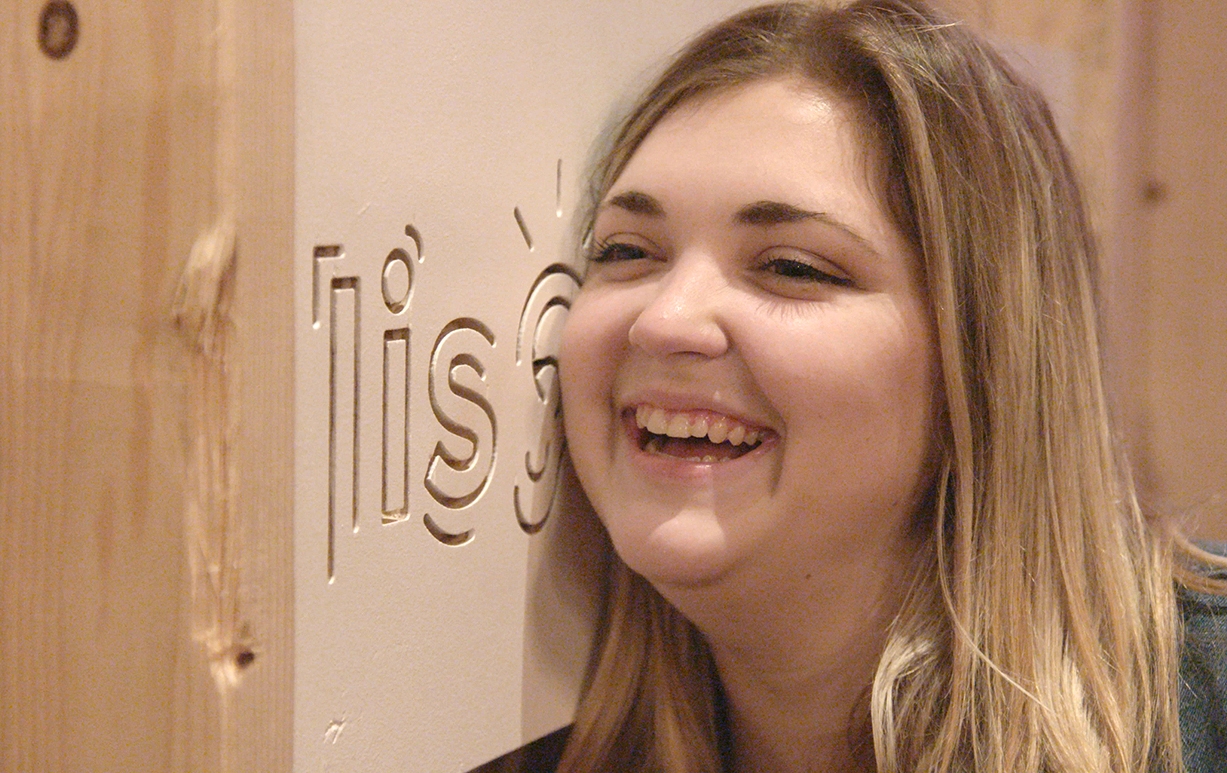 The girls responded to the reciprocity of sharing and listening to stories, and the booth demonstrated to I AM THAT GIRL the power of bringing storytelling into physical space.
 
Role
Concept, Interaction Design, UI Design, Software Development, Fabrication
Collaborators
Skylar Jessen
Jesse Donaldson
YEAR
2016
Tools & Technologies
HTML / CSS
Javascript (p5.js, JQuery)
Adobe Illustrator
CNC Router